Marie Laurencin의 미술작품
Marie Laurencin의 여인들
마리 로랑생 ( 1883~1956 )
Portrait of the Baroness Gourgaud with a





Valentine 1924



 
The Kiss





Jeune femme au chapeau et la rose 1932





Bouquet 1922





Blue Ribbon 1938





Juene fille au collier de perles 1947





Mademoiselle Coco Chanel 1923



 
Young girl with a dove





Two young girls in a landscape





Young girl with a guitar





Young Woman





Women in the woods 1913





Woman with a dog





Three Young Girls 1953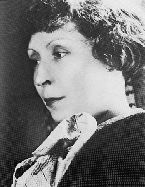 Marie Laurencin
Paris 1883 - Paris 1956
Born on October 31, 1883 in Paris,
the young Marie Laurencin was sent to Sèvres by her mother in 1901,
where she

got familiar with porcelain painting. Her education continued
at a school in paris,
followed by the Humbert academy, where Marie Laurencin got acquainted
with Georges Braque. She soon met Picasso and Guillaume Apollinaire, who
supported her from this time on and integrated her in discussions about
art theory, which soon lead to Cubism. The artist's own creative work,
however, remained untouched by such theoretical demands; it shows
mainly lyrical motifs like graceful, dreamy young girls in pastel
coloring and soft shading. This color-sensitive inventiveness leads to a
variation of repetitions of form and motifs. The influence of Persian
miniature painting and Rococo art are undeniable in Laurencin's works.
In
1907 Marie Laurencin gave her debut at the "Salon des Indépendants,"
followed by a large exhibition at

Barbazanges' in 1912 and at P.
Rosenberg's in 1920. From 1924 Laurencin also worked on designing stage
sets.

She produced stage design for Diaghilev's "Ballets russe" and the
set for the "Comédie Francaise" in 1928. She also illustrated books,
such as André Gide's "La Tentative Amoureuse" and Lewis Caroll's "Alice
in Wonderland."